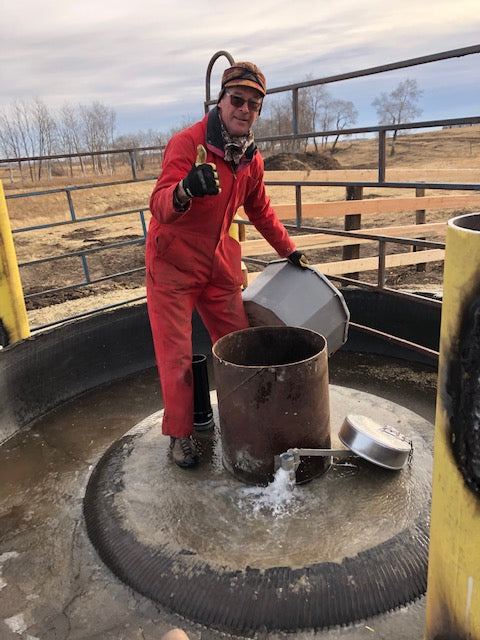 So, I met Jess over the phone several months ago, and I just wanted to share his pictures and thoughts from his Best Float Valve Installation. It is a joy to get to see how our customers use our products. Jess went with the Best Float Valve Supreme Kit- that comes with our stainless steel valve- he went with female (they come male or female). It also uses our 12x4" pan float. That has become a customer favorite because you can adjust the water level from the top instead of needing to reach down in the water where the valve connects to the float. His is ported/plugged for use with a Micro Sweeper for ice prevention if/when he needs it. 
After the install (pictures below), he sent us this: 
"We learned a lot, appreciate your input & are LOVING the new system!!! We removed a 7-foot steel trough with a manual hydrant & replaced it with a 10-foot tire with your float valve system & a drain pipe. We water from four alleys & designed our own Insulated cover with insulated lids for the cold. We are currently experiencing -25 to -40 temperatures and it is working VERY well with a small floating tank heater. We are currently watering 350 yearlings & 200 cows with some bulls as well. It has saved us hours of time, TONS of ice shoveling & the cattle love the on-demand water. There is no longer any pushing or fighting at water nor wrecking alleys and pens."
Happy customers, happy us. Jess, your feedback is so greatly appreciated. It is a joy to serve our customers in the US and Canada! 
If you are interested in livestock tank float valves that will save you time and resources, connect with us today!